You survived Black Friday & Cyber Monday! With Christmas, just around the corner many things can go wrong with retailers during this time.  Inventory and tracking is crucial for you and your staff. 
Without the right hardware, your software won't collect the data it needs to help you function efficiently and provide valuable analytics. So it's important to know what tools are available as well as the features that are available with your software.
Knowing the specific needs of your small business is vital to choosing the essential tools to build the right inventory management system. Moving from manual methods to an automated barcode system can save you thousands of dollars. 
English Management can help you access inventory features.  We provide QuickBooks Point of Sale customers with the option of short-term barcode scanner rentals.  It's an economical and simple barcode solution to make inventory and tracking easy!  EMS delivers an inventory kit that includes a complete step by step set-up guide and lightweight barcode hardware.  In addition, our clients receive support for specific questions and troubleshooting as part of our service. 
"Bring down the stress this year, reserve your EMS Inventory Kit by calling us at 858-467-0400 or emailing us at info@englishmgmt.com. "
Scanner(s)+ Inventory Hand book
EMS Inventory Kits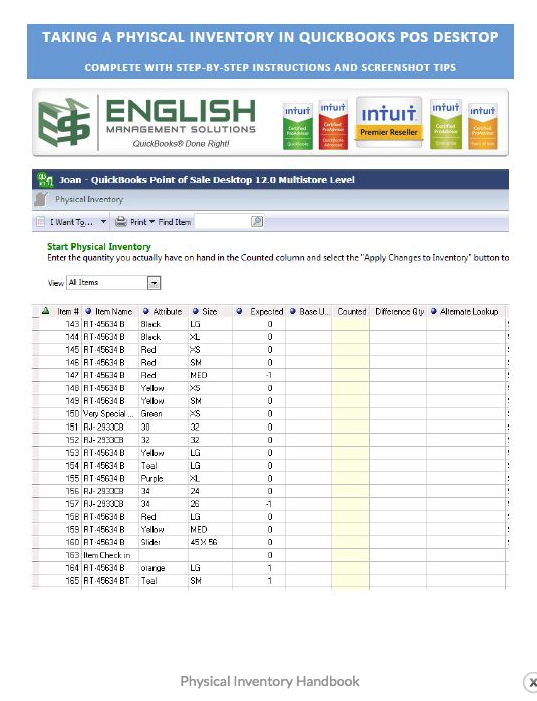 English Management Solutions, Inc.
311 4th Ave. Ste 411
San Diego, CA 92101